Enjoy an Evening Filled with Great Food, New Friends, and Inspiring Conversations!
The Mission Inn is proud to present
The Mission Inn Supper Club
, an intimate dinner series filled with great food, new friends, and inspiring conversations. We look forward to bringing you a memorable dining experience in a unique setting.
We are currently planning our fall schedule for The Mission Inn Supper Club. A new list of events will be added below as soon as they are confirmed. If you want to be notified as we add more just send us an email at
info@missioninn.net
and we will keep you posted.
Foodgasmic Conversations - Thursday, April 4, 2019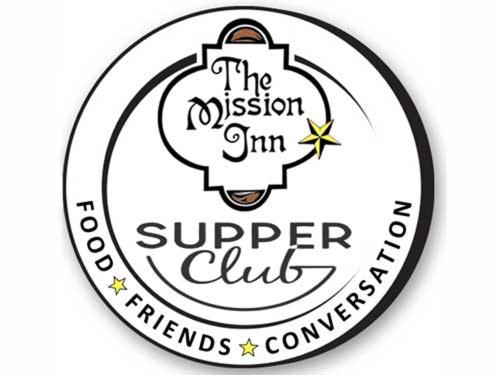 Join us on Thursday, April 4th at 6 pm for our inaugural Supper Club at The Mission Inn. The evening will be filled with great food, new friends, and inspiring conversation as we welcome best-selling authors Nick and Kim from Fat, Drunk, and Fancy who will create a "Foodgasmic" experience over a delicious five-course dinner created by our own Chef Leslie.
What exactly is a "Foodgasmic" experience? I
t's definitely more than just a conversation. It's a shared experience, had around food (and likely a glass of good wine), that in some way inspires you to try something new, dig up an old family recipe or maybe, just maybe, even discover that dream you didn't realize you had.
Want to find out what this is all about? There's only one way to know for sure...join us on April 4th and find out for yourself. What's the worse that can happen? You have a great meal with fun people. There's no downside in that!
The cost is $95/person for an all-inclusive evening: Happy hour, dinner, dessert, inspiring conversations, and a complimentary copy of the "Foodgasmic Conversations" book.
Click here
to reserve your spot.
Seating is very limited for this intimate event!
To learn more about Fat, Drunk, and Fancy: