Headboards in the Rooms
Every guest room at The Mission Inn is designed to transport you to a different mission in California. Along with the beautiful murals on the walls, the headboards provide the artistic backdrop for rest and relaxation.
The original idea to bring parts of the missions into the rooms came in the form of the signs above each door. These hand-painted signs were designed and painted by a local Cape May artist, James McLaughlin.
To extend that same concept inside the rooms, the idea of the hand-crafted headboards was conceived. Each headboard was designed to reflect the front elevation of the actual mission that the room was named after. And they were created by the same artist who painted the room signs and the rest of the indoor murals.
The first headboard was created for the San Juan Capistrano room to test the concept. It was built outside of the inn and then installed over the bed. But the original size was off by about 6" so the bottom had to be shorted to make it fit!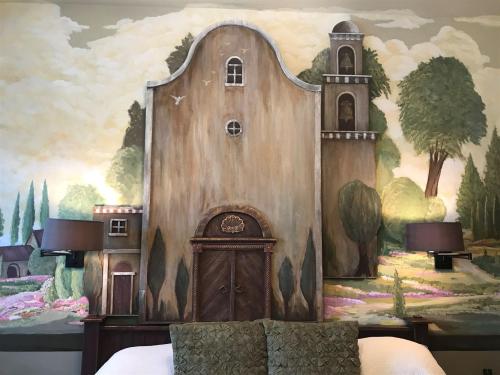 The San Juan Capistrano headboard at The Mission Inn.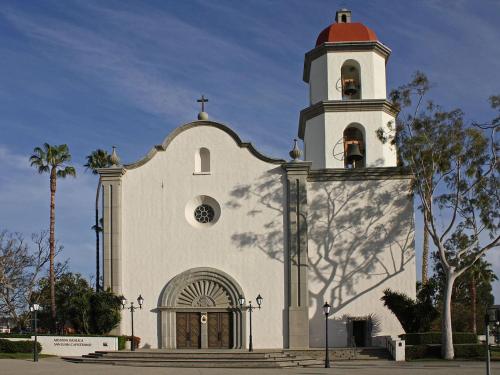 The San Juan Capistrano mission in California.
After that, each headboard was carefully sketched on the wall of the room, measured, and then built and installed. And the mural artwork in the rooms was adjusted to compliment the new headboards.
All of the materials used to construct the headboards were recycled from materials found in and around Cape May - including doorframes, porch posts, shutters, and old hardware. If you look closely at these works of art, you will see these components in the headboards - it was a great use of locally sourced "upcycled" materials before that concept was popular.
To see pictures of all the headboards, click here.