Enjoy Live Music at Our House Concert Series
The Mission Inn is proud to present Music at The Mission, a new house concert series. We look forward to bringing you an intimate concert experience with talented and passionate musicians in an unique setting, our beautiful great room.
Thank you to all of the artists who made our first season such a success! We will be announcing our fall/winter schedule soon - if you want to be notified when we do, just send us an email at info@missioninn.net and we will keep you posted.
October 28, 2017: Kelly & Ellis (SOLD OUT!)
November 25, 2017: C. Lynne Smith (SOLD OUT!)
January 13, 2018: The Squares (SOLD OUT!)
February 24, 2018: Porter & Sayles (SOLD OUT!)
March 10, 2018: Molly Venter & Goodnight Moonshine (SOLD OUT!)
April 14, 2018: Christine Havrilla (SOLD OUT! )
To learn about each artist on the schedule, see more details below.
Upcoming Performances
Fall 2018/Winter 2019 Schedule will be announced soon!
Past Performances
Christine Havrilla - Saturday, April 14, 2018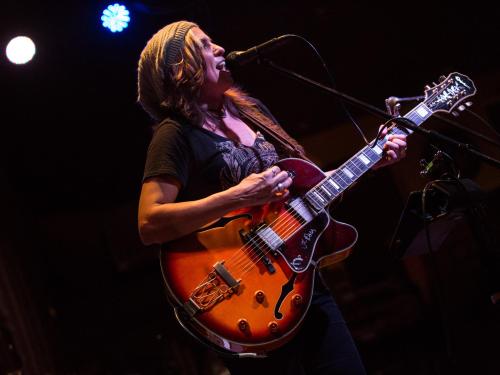 Christine Havrilla is known for bringing her "well-built, catchy, smart tunes" (Upstage Magazine) to audiences everywhere, touring nationally as a solo act as well as with Gypsy Fuzz. Christine utilizes the soft gritty texture of her vocals to express warmth and honesty that listeners quickly embrace as well as her aggressive, raw, trash-style guitar playing. She is currently releasing a series of "Live Sessions" into 2017 which will include long-time fan favorites as well as new songs with her current band, Gypsy Fuzz. Havrilla, who has seven studio albums, five EPs, 4 live albums, and over 18 years of touring under her belt, continues to venture out under "Christine Havrilla & Gypsy Fuzz" as well as a solo artist, showcasing all of her music with new twists.
"This ambitious Philly native manifests her talent in certain ways that allows her to create eclectic music which will grab your heart and leave a lasting memory. Her Roots/Folk/Americana background coupled with that unique individuality that she possesses allows her to be a presence that steps into many genres and gives her the tools to crossover to different music formats." - Steel Notes Magazine
To learn more about Christine Havrilla:
Check out her website: www.christinehavrilla.com
Music samples: https://store.cdbaby.com/cd/christinehavrillagypsyfu6
Goodnight Moonshine - Saturday, March 10, 2018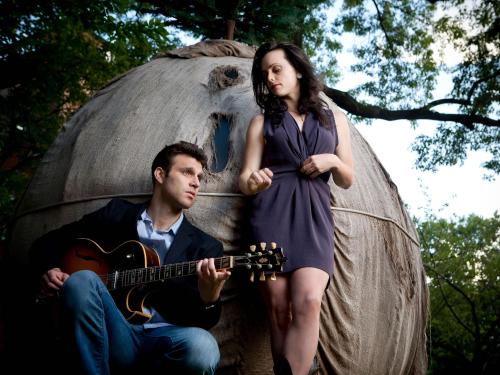 Goodnight Moonshine is a collaboration of songwriters Molly Venter of the chart-topping Americana group Red Molly, and Eben Pariser of the explosive Brooklyn quintet Roosevelt Dime. Co-writing often, Eben and Molly explore what it means to be in a healthy authentic relationship; both wholesome and irreverent, they sing of joy and grief in equal measure. Molly's voice bends from a sweet moan to a gritty shout and back into a playful run in the space of a few bars and "it all goes down like silk," writes American Songwriter Magazine; "few singers turn first time listeners into eternal fanatics as effortlessly as Molly Venter." The emotional potency of her voice is surrounded and supported by a lush landscape of harmonies and minimalist orchestrations conceived by Eben on vocals and electric guitar.
Molly's voice has caught the ear of industry giants, and been prominently featured on FOX television, Apple Computers and in Warner Brothers films. Molly and Eben's Co-write "Willow Tree" was a #1 hit on the folk charts in 2014 and was featured in USA Today. Consummate performers, Molly and Eben have also appeared nationally and internationally, 100+ shows a year, with their respective bands Red Molly and Roosevelt Dime.
To learn more about Goodnight Moonshine:
Check out their website: www.goodnightmoonshine.com
Listen to their music: www.goodnightmoonshine.com/music
Porter & Sayles - Saturday, February 24, 2018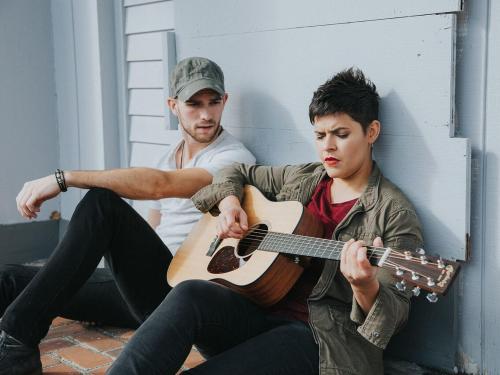 Porter & Sayles, the collaboration of singer/songwriters Christian Porter and Regina Sayles, allure their audience with a crossover between Country, Folk-Rock and a side of southern crooning. Porter blends the raw folk tones of Wesley Schultz of The Lumineers, the pop styling of Jason Mraz and the soulful, warmth of Phillip Phillips. Sayles has a strong, lovely voice that at once calls to mind freejazz Joni Mitchell as well as smooth and smoky Karen Carpenter and rocking Sheryl Crow.
Prior to Porter & Sayles, Christian and Regina were established solo artists but after accompanying one another on respective solo shows, the musical chemistry between them was clear. Between eclectic instrumentation and lyrical collaboration, the duo creates a sonic fusion of pop, folk, rock and country.
Their first full studio album, released in July 2016, is filled with substance, style and a spirit that captures their songwriting prowess. Since the release of their debut album, Christian and Regina have opened for The Steve Miller Band, Frankie Ballard and performed their original work all over the US, including Asbury Park, NJ, New York City, Nashville and most recently in Austin during the iconic SXSW Conference and Festival.
To learn more about Porter & Sayles:
Check out their website: www.porterandsayles.com
Watch a live performance on YouTube: https://youtu.be/xvLemhxx-ns
The Squares - Saturday, January 13, 2018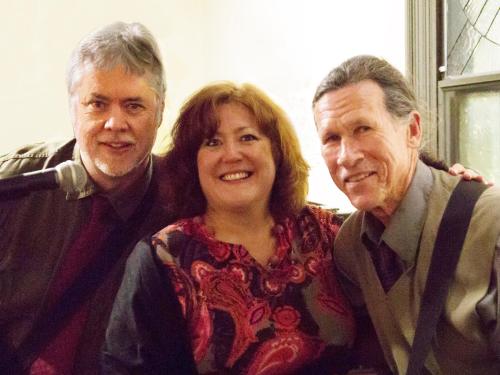 The Squares are a musical trio comprised of Debra Suplee Donahue, M.Q. Murphy, and J.M. Kearns. Their sophisticated, tuneful repertoire includes cover tunes from Patsy Cline to the Beatles and beyond, anything from jazz to folk to pop to blues to "unplugged" rock. They also do many original songs written by Kearns or Murphy. The Squares' music reflects the real-life joys and travails of the human heart, with empathy and humor.
F. Scott Fitzgerald famously wrote that "there are no second acts in American lives," but these three late-blooming baby boomers ignored him and exploded into musical life at a local open mic in 2011. Soon they were playing every week, and quite liking it. Maybe they were over fifty, but they had a rookie sparkle in their eyes and they had young voices, because live performing came late to their lives. Their debut CD is out, and not surprisingly, it's called Second Act.
"A sound built around strong harmonies and equally-strong lyrics in their original songs... They do things the way they were meant to be done, using their voices to convey the songs and the stories within, along the lines of groups such as The Weavers and Peter, Paul, and Mary, and have a classic blues, country, and folk sound." - The Nashville Blues Society
To learn more about The Squares:
Check out their Facebook page: www.facebook.com/SquaresCapeMay/
Listen to their debut album on CD Baby: https://store.cdbaby.com/cd/thesquares3
C. Lynne Smith - Saturday, November 25, 2017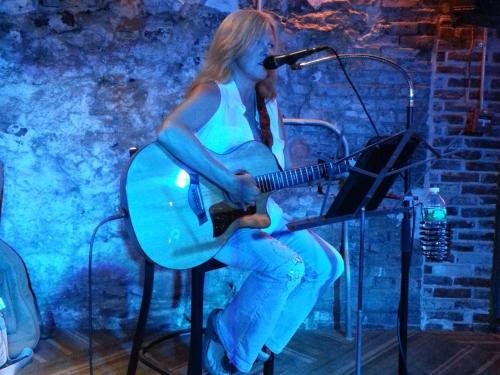 If Patsy Cline, Melissa Etheridge and Janis Joplin had a child C. Lynne would be it. Her dynamic, soulful vocals combined with intricate guitar picking perfectly compliment her thoughtful lyrics. Her musical style ranges from traditional country with a modern feel to folk rock and beyond. Her inspiration for creating music comes from a life well lived. From highs to lows, C. Lynne will drag you through the dirt, help you stand then show you the beauty being alive.
A prolific songwriter and multi-instrumentalist C. Lynne has yet to be cornered into a single genre. Her music comes from life and it doesn't all sound like a country song. She writes songs of love, heartache, anger, peace, war within and without, awareness of humanity and our planet and everything in between.
"The masterful combination of lyrics, music, and vocals make this a must have in anyone's collection. In the first three songs (Real, Where Are You Now, and When) I could feel her pain while getting goose bumps from the excellent writing and moving music. The last two songs (One More Heartache and Time Won't Wait) are toe tapping, knee slapping and a whole lot of fun. Definitely an Artist to be watched!"
To learn more about C. Lynne Smith:
Check out her website: www.clynnesmith.com
Watch a live performance on YouTube
Kelly & Ellis - Saturday, October 28, 2017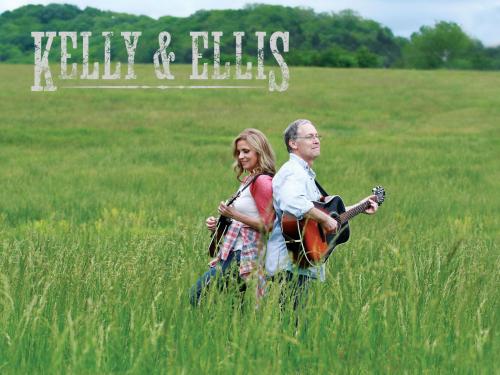 Kelly&Ellis is an award-winning acoustic duo from Nashville. Leslie Ellis performed lead roles on Broadway including Grizabella in "CATS" and won a Grammy® with Celine Dion for "My Heart Will Go On". Casey Kelly began his career in the legendary "Greek Fountains" of Baton Rouge opening for major artists at arenas and stadiums. He then began writing hits at 1650 Broadway and the Brill Building, working among the likes of Carole King. He nearly joined Three Dog Night, toured with Tom Rushand The Beach Boys, and wrote #1 hits "Anyone Who Isn't Me Tonight", "Somewhere Down the Line", "Only Game in Town" (recorded by America/produced by George Martin") "The Cowboy Rides Away" – a signature hit for George Strait – among many others, and scored a brace of Grammy® nominations.
"They're fun, beautiful, heartbreaking and so much more wrapped up into a collision of genres (classic rock, Celtic, New Orleans R&B, contemporary pop, Broadway) from their careers. The Long Road to You [and their live show] is about their journey to find each other, to find their place; for the listeners, we finally found them."- Brenda Hillegas, Emore Magazine
"Kelly&Ellis are one of those rare and wonderful unions in life, and what that does for their music and the listener is palpably wondrous. You'll hear and feel it for yourself when you indulge in this milestone CD, aptly titled The Long Road to You. This collection of songs is truly wonderful, beautifully sequenced and charmingly eclectic. There's a real purity about it. No big production. Just great performances, superb musicianship and terrific tunes. It's honest, fun and personal; the kind of thing that makes you feel that they're right there in the room with you. I wish they were." - Scotty Brink, Former Program Manager, WRKO Radio, Boston, MA
"The Long Road to You wraps Kelly&Ellis' journey - a tuneful autobiography, a slice of music history and a vision of their future - in lush, guitar-rich arrangements. We're lucky to go along for the ride." - Acoustic Guitar Magazine
To learn more about Kelly&Ellis:
Check out their website: www.kellyandellis.com/bio
Watch a live performance on YouTube